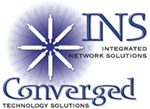 Who is INS?
Integrated Network Solutions, Inc. (INS) is a Savannah owned and operated telecommunications company incorporated in July of 1990. Originally formed to provide hospitality solutions to resort condominium complexes, INS' 1992 acquisition of Atlantic TeleData's telephone interconnect business led to today's established provider of business telephone system products and service.
What This Means for You
From the beginning, INS has developed a reputation for technical expertise, after the sale service, and integrity. With the convergence of voice and data, INS has maintained its leadership position in new technologies. With over 700 satisfied customers, INS is truly the Voice of IP in Coastal Georgia and the South Carolina low country.
Our Team
At INS we use a TEAM (Together Each Achieves More) approach to problem solving. This ensures that solutions are found, problems are resolved, and our customers are happy. This is not only with each other at INS, but with other vendors and solution providers.
Michael Dodd

Chief Operating Officer (COO)

Della Ward

Operations Manager

Susan P. Neal

Customer Service / Dispatch

Phyllis Dodd

Account Manager

Frederick Rigdon

Technical Support Manager

Ed Nolan

Data Systems Engineer

Robert A. Harper

Senior Technician

Mark Compton

Senior VoIP Technician

Brad Lamb

Cable Installation Manager

Jill Weaver

IT Support Engineer

Daniel Cauley

Technician

Denise Poirier

Accounting

Tracey Mueller

AT&T Service Liaison

Seth Black

Structured Cable Engineer

Michael Jaroch

Data Systems Engineer